Beautiful Water Features Create Paradise In Your Arizona Backyard

Adding a water feature to your Arizona landscape is a great way to enhance your outdoor environment. Whether its a natural waterfall, or a more traditional fountain, water features add to the overall ambience of your space. Flowing water adds movement and becomes a focal point of your landscape, while also creating soothing sounds to help create a calming environment for you to relax and unwind after a long day.
Caribbean Dreams Landscapes has been specializing in natural waterfalls for over 10 years! We have dedicated ourselves to being your waterfall and pond professional. Over the past 30 years, we have learned the trade and actually helped create the market for water features in Arizona. It has taken us 30 years to obtain the knowledge and experience to install and repair water features, and this means you get the job done right the first time! With no need to worry about costly repairs or remodels because we use the best materials, and provide the highest quality of workmanship. So you can sleep easy, and enjoy your water feature for years to come!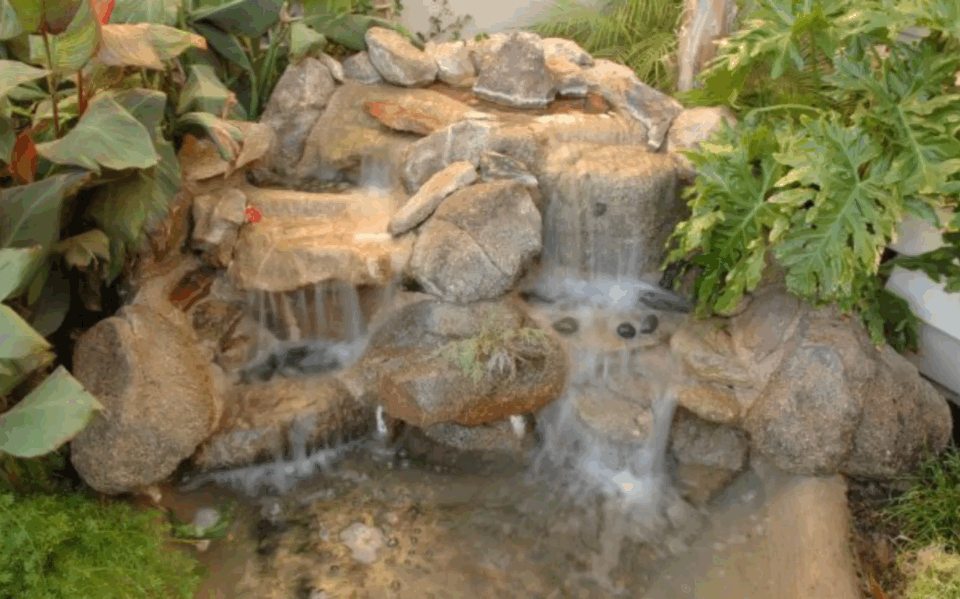 Pond and Waterfall Design
There are many different methods of designing and constructing a pond or waterfall in Arizona. A common method of construction is a plastic or rubber liner. This is a more inexpensive solution for building a pond and waterfall, but usually ends up causing problems and costing more money in the long run. If liner ponds are installed correctly with an underlayment and proper liner, they can last awhile, but more often than not we encounter ponds that have no underlayment and a very thin liner.
These ponds are very susceptible to penetration from animals, rocks, and tree roots. Usually the solution to this problem is removal of the liner and rebuilding with concrete, but just because a pond or waterfall is built with concrete doesn't automatically make it a better solution.

There are plenty of concrete ponds and waterfalls out there that have just as many problems as the liners. The reason concrete ponds last for a long time is because they are reinforced with rebar (metal rods) just like a swimming pool is constructed. In order to have a strong shell, the rebar should be spaced at a minimum of 12" on center, and be placed in the middle of the concrete.
In other words, the rebar shouldn't be laying on the ground before the concrete is poured. It should be raised up about an inch and a half, depending on how thick the concrete is poured. Generally for a pond you want a minimum of 3 to 4 inches of concrete. This creates a strong shell that will resist cracking for many years. If a pond has a thin shell of concrete and/or is not reinforced with rebar, it will experience larger and more frequent cracks.
Case Study: Building a Waterfall
Backyard Waterfall Crack Repair
Cracking is the result of tree roots, settling, expansion and contraction, among other things. Roots from mature trees can damage any piece of concrete, no matter if it is reinforced or not, so this is something to take into consideration when building or repairing any water feature. Settling is something that is not in our control.
Some areas are more susceptible to tremors and settling depending on ground faults, soil composition, and other variables. Concrete expands and contracts with the rise and decline of ambient temperatures. In Arizona we don't really have to worry so much about expansion and contraction but it can affect structural integrity depending on the situation.
Natural Rock Waterfalls
Natural rock waterfalls can be very beautiful if built correctly. Most are held together with a material called rock-crete. This is a mixture of crushed granite, mortar, and water. The crushed granite matches the natural stone of the area, typically called surface select. When building or repairing a waterfall the rock-crete is allowed to harden a little, then is sprayed off with a hose with a nozzle. This exposes the crushed granite and produces a natural look that matches the stone.
Waterfall design is an art form. After designing waterfalls for many years, we can look at a rock and visualize how the water will run over it. This is very important in determining how the rocks will fit together to create a natural looking water feature. We build every single water feature as if it was going to be in our backyard. If you would like a backyard waterfall to enhance your outdoor living experience, we can help. We can design a backyard waterfall for any space.
The Industry is plagued by 80% Failure Rate on first-year ponds. An unfortunate fact in the industry is that 40% of the ponds and waterscapes built by both professionals and amateurs do not ever function properly. And another 40% that do work initially stop working in less than a year after installation. Why the high failure rate? The problem arises when professionals who have knowledge of one industry cross over into another that they know little about. Pond design and installation requires knowledge of water chemistry and quality, flow rates, bacteriology, aquatic botany, ecological balance, pump sizing, filter capacities, construction methodologies, and much more.
Pool Waterfalls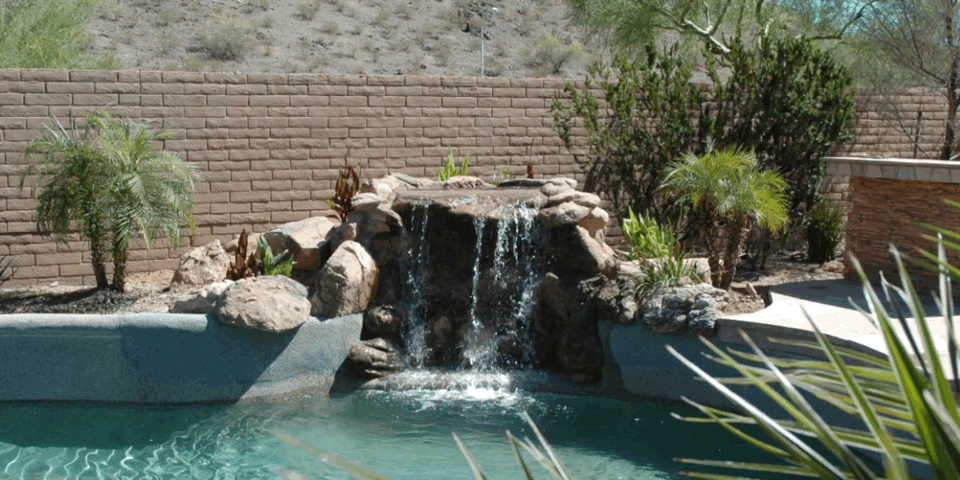 Water Feature Portfolio